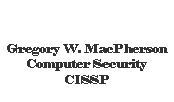 ---
---
Home | News | Services | Talks | Papers | Stats |

Gregory W. MacPherson's Web Site http://www.netpublishing.com/greg/index.html
©2005 Gregory W. MacPherson All Rights Reserved. Reproduction in whole or in part in any form or medium without express written permission of the author is prohibited. NetPublishing is a trademark of NetPublishing. Inc.